Lover Awakened is the third book in the Black Dagger Brotherhood series. It tells the story of Zsadist, the most feared of all the Brotherhood warriors. A former blood slave, who bore the scars on his face as well as in his soul from a past filled with suffering and degradation until he rescues the beautiful aristocrat, Bella, from the hands of the evil Lessening Society. Their desire for each other is overwhelming, but in order for any hope of a future together, it is Bella who must "rescue" Zsadist from the suffering and humiliation of his tortured past.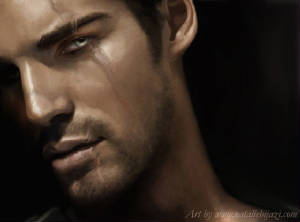 As reviwed by Vickey London,
The Lessers have taken something near to Zsadist. Bella is a civilian vampire who was kidnapped at the end of Lover Eternal and held captive by the Lessers. Zsadist rescues her from a horrific torture chamber set up by the Lessers to extract information from civilians about the Brotherhood. Bella is drawn to Zsadist's raw power and his vulnerability that no one else can see. Being near him is the only thing that can soothe her fears. As their desire for each other begins to awaken, Zsadist is overcome by memories of his past and his growing hunger for revenge against the Lessening Society. Bella must help him overcome the soul deep wounds of his terrible past to find a future together.
J.R. Ward has written yet another incredible Black Dagger Brotherhood story. The whole picture of Zsadist's life is finally revealed along with the story of his rescue by his twin brother Phury. Phury's devotion to his brother and the toll it takes on him is heart wrenching and fascinating. Zsadist and Bella's relationship is an odd mix of violence, tenderness, and erotic heat that somehow really works. Zsadist is a great character because he is so damaged and mean yet completely redeemable.
Lover Awakened isn't just about Zsadist and Bella. The Lessers are getting smarter and more violent and a vicious attack has tragic consequences for one of the Brotherhood. Meanwhile, Butch (the cop) has been carrying a torch for the gorgeous vampire Marissa and it looks like we'll see much more of him in the next book, Lover Revealed. The vampire warriors of the Black Dagger Brotherhood are sexy, strong, and irresistible. These hunks will give you shivers. If you liked the other Black Dagger Brotherhood books, this one is a must read.